Crocs Purpose
We Believe Everyone Should Be Comfortable In Their Own Shoes
We're committed to reducing our environmental footprint, uplifting our communities, and creating a welcoming environment for everyone, rooted in a culture of sustainability, governance, transparency, and accountability.
Comfort for the Planet
Reducing our carbon footprint through responsible resource use, innovative packaging alternatives, and integrating bio-based material into our shoes.
Comfort for our communities
Donating shoes, funds, and volunteer hours to global communities and in times of need through our Crocs Cares program.
Comfort for all people
Ensuring Crocs welcomes all one-of-a-kinds while creating a comfortable workplace through progressive people-practices.
---
Comfort for the planet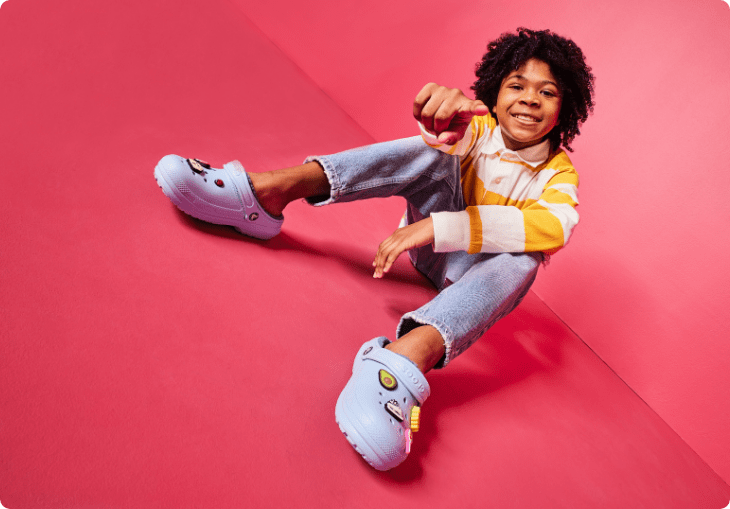 Our Shoe Of The Future
We are pioneering the use of bio-based Croslite™ material developed in partnership with Dow, using their Ecolibrium™ technology to transform bio-circular waste and by-products into a shoe that has all the comfort you expect from Crocs, but with less emissions*.
By 2030, we will achieve 50% bio-based content
within our Croslite™ compounds
100% of our bio-based resin is ISCC
Plus

Certified

Bio-circular Croslite™ material has a lower carbon footprint than standard fossil fuel-based Croslite™ material. As a result of our mass balance approach, the amount of bio-based content per shoe fluctuates.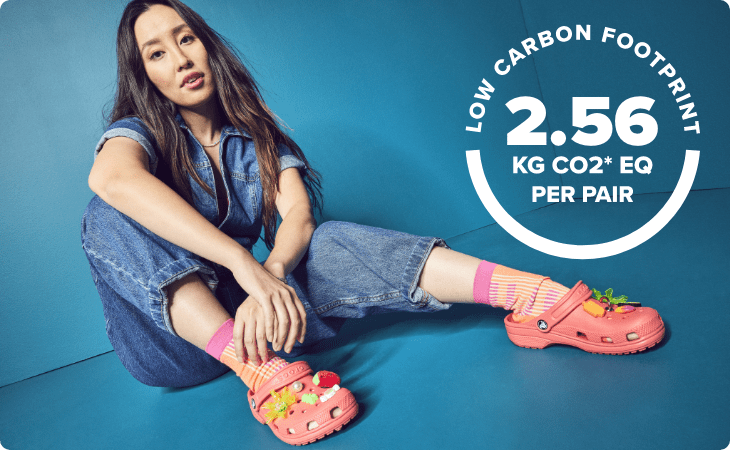 Already Low Footprint
Our inherently simple approach to design, the materials we use, and how our shoes are manufactured mean that our Classic Clog already has a low carbon footprint*.
We intend to lower it even more, by focusing on innovating materials and creating efficiencies throughout our value chain.
This metric was calculated using the Higg Product Module 1.0 at Higg.org in 2021. Calculations were conducted internally and represent a cradle-to-grave impact. All Crocs footwear carbon footprints are calculated using industry recognized sample sizes across our product classifications.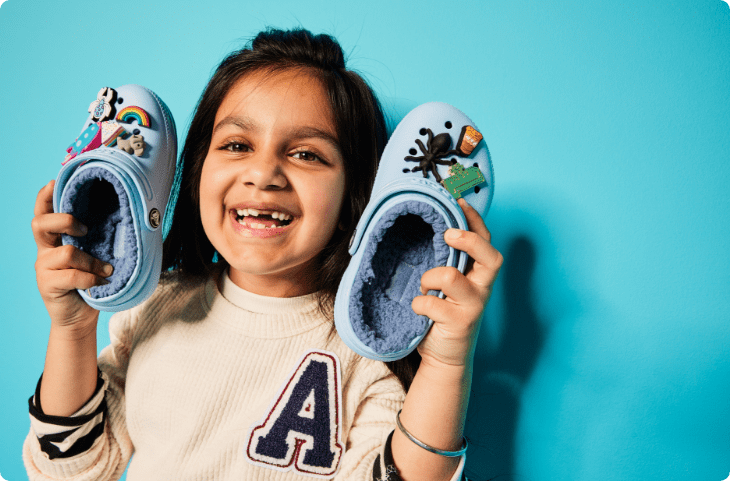 Bags & Boxes
One of the biggest ways we reduce the impact of our packaging is to limit using shoe boxes where possible because our shoes are durable and generally lightweight (and yes, incredibly stylish).
We're taking that effort one step further by transitioning all of our global product polybags to 100% post-industrial recycled content. And we'll continue to work on innovative packaging solutions that use more recycled materials and consider reuse opportunities.
More than 80% of our shoes are sold without a shoe box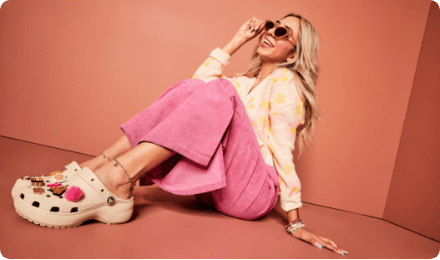 Still 100% Vegan
Since 2021, we've eliminated all animal derived materials from our products. We are a proud winner of PETA's 2022 Libby Award.
Old Crocs. New Life.
We love the idea of giving our shoes a second life. Within a circular economy, reusing or redistributing products helps to minimize environmental impact associated with new production.
Over 300,000 pairs of shoes given a new life in the past year
Explore Retail Takeback
---
Comfort
for Our

Communities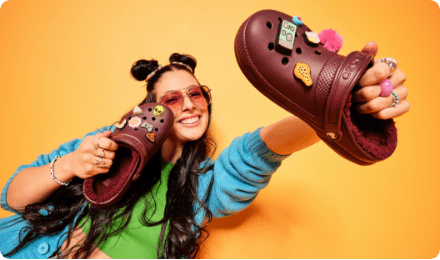 Global Support
Through both direct and consumer-led efforts, we donate funds and shoes to non-profit organizations, supporting issues we care about.
$16.1M donated in both shoes and funds globally in 2022
200,000 pairs provided to refugees of the war in Ukraine through Soles4Souls
---
$125,000 donated to the United Nations Foundation to support equality for girls and women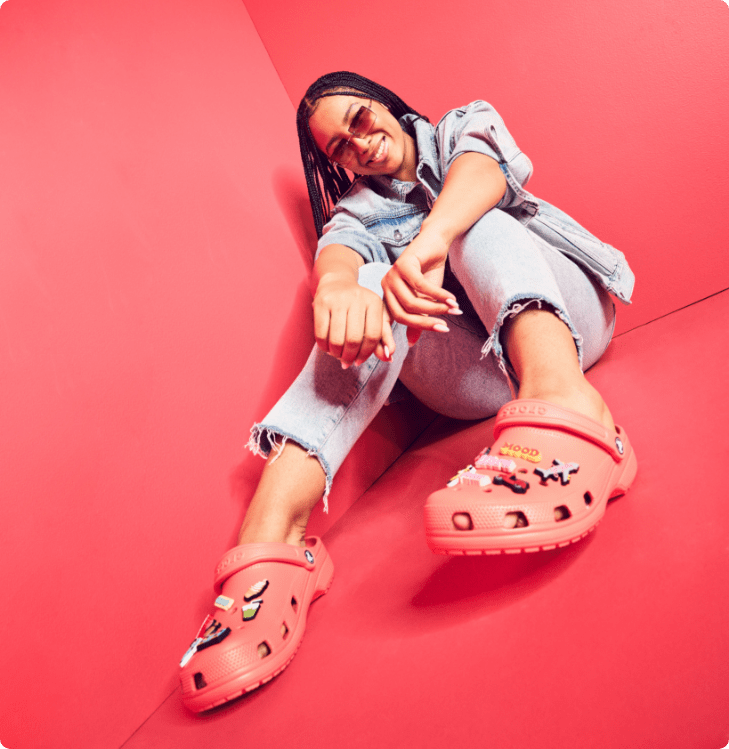 LGBTQ+ Support
At Crocs, we believe everyone should be comfortable in their own shoes. We proudly stand with the LGBTQ+ community. Together, we can create a world where every person can come as they are.
Continuing our partnership with GLAAD to support the voices of LGBTQ+ people
Learn About Our Pride Support
Local Love
From schools to communities, kids to adults, urban to rural, Crocs Cares stretches to provide comfort when it's needed most.
30,000+ pairs of shoes donated to the Boulder Valley School District in the wake of the Marshall Wildfires in Colorado
---
Comfort For All People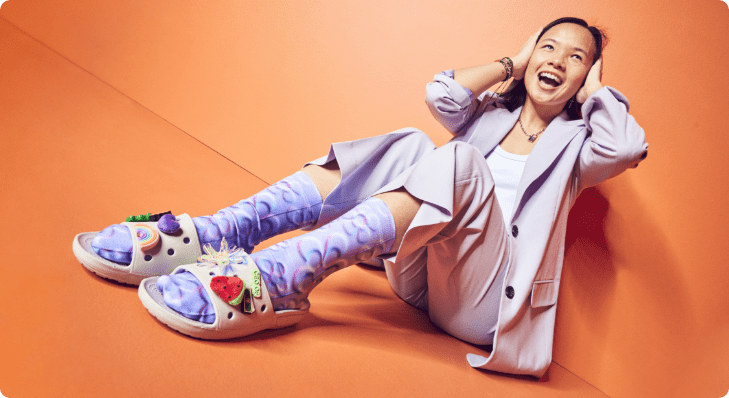 Come As You Are
Crocs welcomes all one-of-a-kinds while creating a comfortable workplace through progressive people practices that foster inclusivity & belonging.​
Nearly 2/3 of global employees identify as women
More than 1/2 of U.S. employees identify as people of color
Some Of Our Accolades
Crocs has been recognized as a top employer:
Newsweek 'America's Most Trustworthy Companies'
Forbes 'America's Best Employers for Women'
HR Asia 'Most Caring Companies'
Forbes 'America's Best Mid-Size Employers'
Forbes 'Best Employers for New Grads'
HR Asia 'Best Companies To Work For in Asia'
Newsweek
America's Most Trustworthy Companies
Forbes
America's Best Employers for Women
HR Asia
Most Caring Companies
Forbes
America's Best Mid-Size Employers
Forbes
Best Employers for New Grads
HR Asia
Best Companies To Work For in Asia