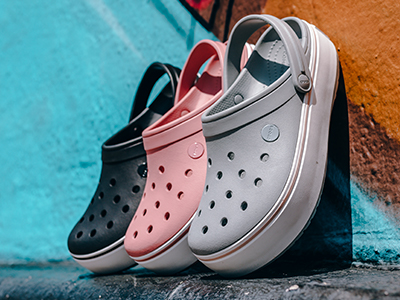 Crocs Launches
Crocband™
Platform Clog
When attitude meets
altitude
The platform trend is seen from the
LA, which is fueled by the growing popularity of big and bold everyday styling. Crocs is
seeing people wear the clog with culottes, dresses, skirts and fun socks. But like so
many Crocs styles, it goes with a variety of outfits.
runways of New York Fashion Week to the streets of
"It combines two
making a statement and putting comfort first."
elements that are inherently Crocs:
Michelle Poole, Senior Vice
President of Global Product & Marketing
While Crocs wanted to offer a Platform
it was important that it stayed true to our brand DNA. "We hope that our consumers see
the new collection as a way to add a little height — and attitude — to their look without
compromising on comfort," Michelle added.

Crocs fans are great at showing us their personal styles. Now, we're excited to see what
they do with the Platform Clog!
shoe that was a reflection of the current trend,
Explore All Of
The Colors