why crocs makes
the best gardening shoes
Read on to learn what people
are saying about Crocs in the garden.
With their amazingly colorful,
customizable design, Crocs are the perfect choice for gardening
in unique style.
washable, breathable and totally
washable and waterproof
Working in the yard can be messy.
Because many of our shoes are made with our Croslite™ foam, they are inherently easy to clean with just a little water.
"They're great for working on the lawn
—Christina or garden or just running errands. They're comfortable and I don't have to worry about getting them messy; they just wash up really well."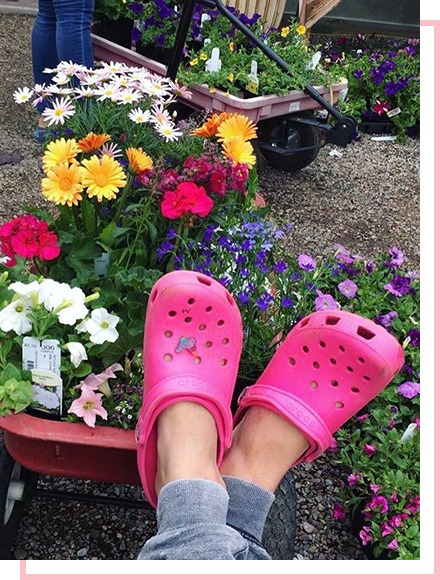 cute and customized
With a variety of colors to choose from
in all of our gardening styles, you can choose the one that suits you and then take it up a notch with Jibbitz™ charms, too!
"I work seasonally for a garden center
—Danielle and I buy a new pair of Crocs each season. They looked cute online, but when I got them, they were just too chacha for words! People stop to tell me how cute they are!"
odor-resistant
Our gardening shoes are made with Croslite™
foam, our proprietary closed-cell resin that has odor-resistant properties. Many of our styles are also very breathable to prevent you from getting too warm.
"I took a job watering plants at a local
—Christina plant nursery. Finding boots that don't cause blisters and could be cleaned easily was a challenge. These boots are perfect, and cute, too!"